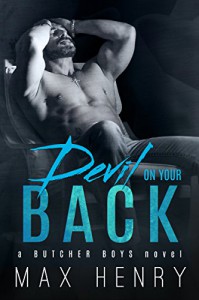 Having just finished reading 'Devil on Your Back' book 2 of Max Henry's "Butcher Boys" series, I'm left in AWE yet again! Leaving me SPEECHLESS, her ability to drag the ugliest situations in life & create something dark & yet beautiful all at once leaves me stunned. You feel as though the character/s life could be your own.

There was a touch more darkness in 'Devil on Your Back' than in book 1 of the series, but I feel it was needed, the personal lose for the main characters is traumatic, life changing, devastating. Yet we get a glimps of the person within, struggling to break free, to breathe freely again, to love...

I loved the glimps of the past you get with this book, although the past was painfull, it made reading the present events & situations, more understandable. Also the inclusion of the characters from book 1, seeing how they were handling things, how everyone was going, was an added bonus.

In true Max Henry fashion, she's written about this dark, distressing subject & molded it to her design. Sharing with the reader the struggles, the up's & down's, the self doubt... the cocoon the character/s wrap around themselves, just to get through their lives & what it takes to break free. Please NEVER stop writting Max, because I never want to stop reading your masterpieces. (sound familiar?? hehehehe) Bring on book 3!!